Qualcomm in Hong Kong's 4G/ 5G summit, the official launch new X50 baseband chips, commercial, in the first half of 2018 from the previous generation product X16 release, less than 1 year.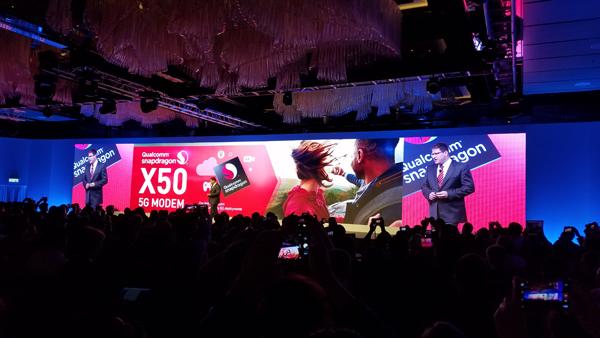 Newly released X50 support at 28 GHZ frequencies in the early years of the baseband mmWave spectrum, using multiple input multiple output (MIMO) antenna technology, and through support for 800 MHZ broadband, X50 baseband descending rate of theoretical peak can reach 5 GBPS (625 MB/s).
Compared to previous products X16, the release of X50 iteration time less than a year, descending rate increased 5 times, a 2 gb 720 p resolution movie, theory of cases less than 4 seconds the download is complete.
The X50 baseband is specifically for 4G / 5G multimode and fixed broadband and mobile devices, can be integrated with petascale LTE baseband (X16) is tie-in, through double connection technology, X16 baseband can provide wide area coverage for early 5 g network.
According to the official introduction, X50 baseband support enhanced 5G mobile broadband, will be provided to between users and cloud services better real-time performance, at the same time as the media content of consumption and production to provide better conditions, and for more family and Internet service to reach the final.
Specific commercial time, the first adopts X15 baseband prototype will be appeared in the second half of 2017, official business for the first half of 2018.
It is worth mentioning that the major communication infrastructure of nokia are testing 5G technology at present, formal commercial road map is not clear, however, this time the qualcomm 5G baseband commercial time fixed in 2018, is likely to pull, including such as nokia, all 5G relevant solution appeared in advance.